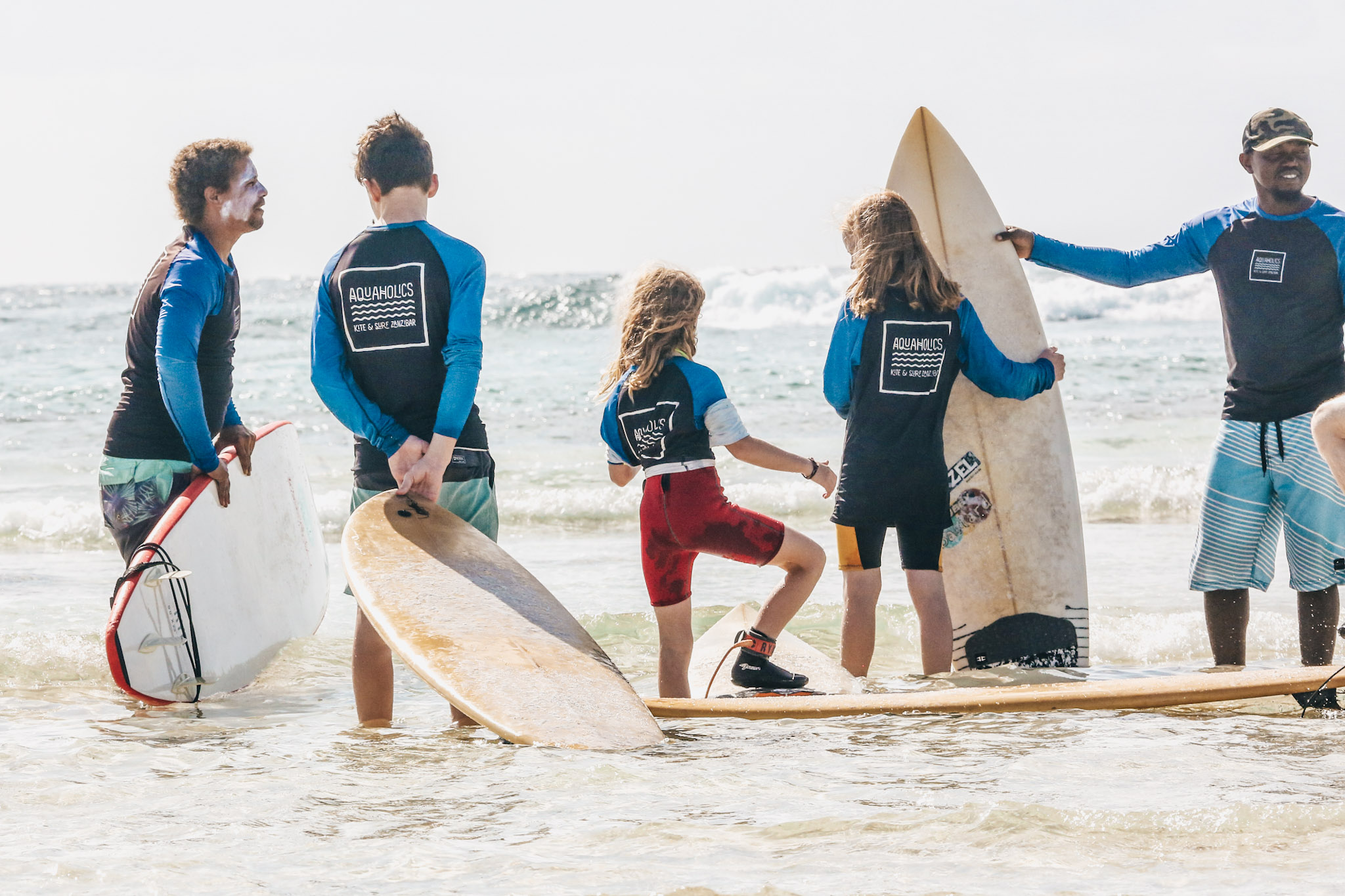 Spots and Surfing conditions
Surfing in Zanzibar offers some great conditions for all levels. You find uncrowded and untouched surf spots along the southeast coast with mainly right hander waves.
The reef in Zanzibar is not as gnarly as some other tropical islands surfing spots. Its generally flat and rocky. Some surfing spots can be home to many sea urchins (spikey crustations you don't want to stand on) but our beginner friendly spot is almost urchin free. Dolphins are seen regularly along the coastline and often join you for a surf session. Local fisherman often gather and watch the first surfers in Zanzibar as we discover new spots all around the island.
During the December to March season we do get anti- cyclones in the indian ocean which can send some proper ground swell our way, and that's when all sorts of surf spots start working. Throw in an offshore day and we have surf breaks where you can trade stand up barrels with only a handful of surfers out.
Zanzibar is quite chancy for waves, so the knowledge of where to go is an essential. Swell and wind direction are vital to get any form of decent wave to surf as well as tides and moon faze. Different sections on the reef break on different conditions and some are really worth the boat trip out for a surfing session.
Surfing lessons and surf trips need to be well timed, as surfing in Zanzibar is limited to 1.5 – 3 hours of good surf a day. The reason being are the big tidal changes on the island. Surfing lessons need to be timed to the pushing mid tide to get the beginner surf spot working at its best. The more advanced surfing spots start to work with the last hour of the dropping tide and best over low tide and the first push after the tides change.
TAMARINS
We  have found a beginner friendly surf spot on the reef with smaller waves for beginners and intermediate surfers where we run our surfing lessons. This spot is great for learning as we can stand up with only sand, flat rocks and seagrass beneath us. This wave is incredibly beautiful and breaks perfectly to get your first open face wave riding under the belt. Level: Beginner, Intermediate
JAMS
Jams is the inside section of a bigger surf break called Doughnuts and works especially well on the easterly swell. This spot is still a beginner to intermediate wave but offers a great wedgy take off into a soft open face shoulder with about a 30m ride. Jams tends to be a bit rockier and has more current, so generally intermediate more paddle fit surfers enjoy the spot. On small days surf lessons take place here. Level: Beginner, Intermediate
DOUGHNUTS
Dongwe Doughnuts is the outside section of Jams and Tamarins, where bigger sets break for more advanced surfers. This wave walls up and races down the reef and offers great technical surfing with more power than other spots along the reef. A barrel section over shallower reef wraps around and softens up into the spot we call Jams. Level: Intermediate, Advanced
J-BOX
J-Box is the longest wave that we have found so far and can be found on the outer reefs of Jambiani. This spot handles bigger swells but only works on the lowest tides. In the June – October season, especially around July & August, this wave starts to work. You get about four to five turns on a wave and end in a deaper pass, that you can then use to get back out. Level: Intermediate, Advanced Level: Intermediate, Advanced
KEEP LEFTIES
Keep Lefties is our newest discovery along the reef in Dongwe. A fun left hander wave ideal for beginners on small days and lots of fun for more experienced surfers with a bit of size on it. Can still be a playful session even on a windy day, although the spot is hard to reach with windy conditions as the boats have to drive outside the reef. Level: Beginner (in small swells,) Intermediate